I simply could not remember my all-time favorite gift.
It was between periods at the ice hockey game last night. The T-shirts had been thrown into the crowd, the fella had surprised his girl and gotten down on one knee (she said yes)…
..and a video had played on the jumbo-screen where the players were asked what their all-time favorite Christmas gift had been. The video ended with a graphic- "What was your all-time favorite Christmas gift?"
My husband remembered his: a SEARS toolbox from his granddad. My daughter remembered hers: A  Care Bear; she still has him.
But for the life of me, not only could I not remember my all time, favorite gift, I was struggling to remember ANY gift.
What I do remember though are moments..
I remember standing at the top of the stairs with my sisters, hall light on, straining to see the sofas in the living room below, trying to decipher what Santa had left. (We were not allowed to run down until our parents had woken up)
I remember the year we looked down from our perch and saw nothing in the living room, bursting into our parents' room to report the disaster and being immediately shooed back into our bedrooms.  "Obviously our town is last on Santa's busy delivery schedule" my mother explained. It probably didn't help that the adults' partying had gone on late the night before.   (Everyone knows Santa needs to work in private.)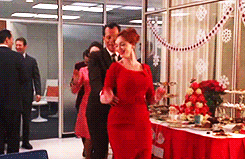 I remember our own children waiting in agony at the top of the stairs while my exhausted husband and I lit the fire, flipped on the tree lights, brewed the coffee and turned up the music to set the holiday scene.
It's these moments that I vividly remember; they are my all-time favorite gifts.